Need To Heat & Cool A Sunroom? RoomAire has your solution!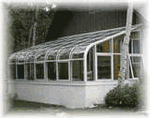 If you have a sunroom in your home, or if you are in the process of installing one you will want to consider how you will heat and cool this new addition. Sunroom heating and air-conditioning allows you to enjoy this space all year around and in all weather conditions.

There are several options you can choose from when installing heating and air-conditioning to your sunroom. If the sunroom is, or will be attached to your house and you have a central heat and air system, you can tap directly into the existing system relatively easy. This can be done by bringing the ducting from the house into the sunroom. This will allow the temperature of the sunroom to be the same as the temperature of the house. You can install a separate thermostat and have a valve set to allow heat or cold to enter the sunroom at different rates that the rest of the house. You will need to make sure your system is powerful enough to accommodate the extra square footage of the sunroom and add additional duct fans to help the air blow into the room efficiently. Although this is an option for you to consider it can be quote costly.

The BEST option and most affordable would be to install either a 42"w x 16"h Packaged Terminal AC (PTAC)unit or perhaps a Mini-Ductless Split. The installation process is much more simple and very cost effective. Best of all you will be able to manage the individual heating and cooling needs of your sunroom without interfering with the rest of your home. This will certainly be much more energy efficient.

Installing a PTAC can be done without the need of a HVAC contractor. It involves cutting a 42"w x 16"h wall opening and inserting the wall sleeve, exterior grille and main chassis. You will also need a 230/208V electrical outlet. Mini-Ductless Split involves installing the outdoor condenser and the indoor air handler. This must be done by a certified HVAC contractor. It also requires 230/208V electrical service. The downside if any of Ductless Mini-Split is although you can purchase them with a Heat Pump these type of units generally do not have backup electric heat that would kick on when the temperature dips below freezing. The PTAC units do have backup electric heat which is another advantage.

Ready to purchase your sunroom heating and cooling air conditioner or have additional questions? Buy On Line today or call us at 800-891-4729 if you have any additional questions.


Thank You For Shopping RoomAire.com!