Friedrich Kuhl Series SM24N30 27,800 BTU Room Air Conditioner with 9.4 EER, R-410A Refrigerant, 24-Hour Timer, Carbon Filtration, Automatic Fan, Digital Remote Control and 230/208V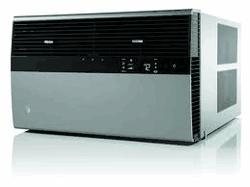 Click to Enlarge
Friedrich Kuhl Series SM24N30 27,800 BTU Room Air Conditioner with 9.4 EER, R-410A Refrigerant, 24-Hour Timer, Carbon Filtration, Automatic Fan, Digital Remote Control and 230/208V
Product Description
Friedrich Kuhl Series SM24N30 27,800 BTU Room Air Conditioner with 9.4 EER, R-410A Refrigerant, 24-Hour Timer, Carbon Filtration, Automatic Fan, Digital Remote Control and 230/208V
Features
Comfort and Convenience
Control your unit from your smartphone, computer or tablet.
Create customized 7-day schedules.
24-hour timer.
Group units for zone or centralized control using FriedrichLink.
4 cooling and fan speeds.
Automatic fan speed adjustment.
Comfortwatch technology samples the air to more accurately maintain the set temperature.
8-way airflow control.
Display set point or room temperature.
LCD panel auto dims when not in use.
Nightlight mode.
Durability
Scratch resistant, painted 20-gauge steel cabinet resists corrosion and rust.
Solid steel blower wheel housing.
Commercial grade fan motor run at lower temps for longer life.
Fan motor is totally enclosed for maximum protection.
Exclusive aluminum rear grille protects against vandalism and damage.
Firm grip handles for easier installation and maintenance.
Aluminum endplates prevent rust.
Solid steel base pans and inner walls.
Robust construction does not rely on outer sleeve for support.
Sound Reduction Technology
Extra thick rubber grommets absorb vibration and reduce noise inside, while steel inner walls and extra dense insulation block outdoor noise.
Unique airflow path minimizes operating sound.
Larger discharge vents allow conditioned air to move more quietly.
Installation Features
Can be installed in window or thru-the-wall (depending on wall thickness).
Slideout chassis design, including firm grip handles, makes installation and maintenance much easier.
Rugged hardboard side panels allow for a more permanent installation.
Front cover designed to allow power cord to exit left or right out of the unit.
Heavy-duty installation hardware.
Front cover attaches easily and securely; nut driver included.
Powercord can run left or right for more installation options.
Superior Filtration
Advanced dual-stage carbon superior filtration system removes allergens, odors, ozone and other impurities from the air.
In lab testing, combining the the optional carbon filter with the standard antimicrobial filter achieved a superior air filtration rating of MERV 6.
Fresh air and exhaust vents offer additional air quality control.
Maintenance made easy by hinged filter door access, and a check filter reminder.
Safety and Security Features
EntryGard anti-intrusion protection prevents kick-in by securing the unit in the sleeve; a protective rear grille shields the unit.
Insect barrier keeps out smaller intruders.
LCDI power cord.
Protective rear grille.
Earth Friendly
Smart Grid Capable.
Two optional energy management schedules.
Auto Fan mode saves money by conserving energy.
Ozone-friendly R-410A refrigerant.
RoHS compliant.
ENERGY STAR qualified.
Recyclable packaging.
Find Similar Products By Category
Product Reviews